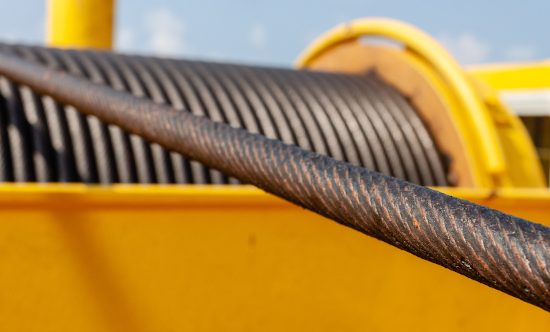 Allspeeds has developed an integrated emergency cutter for steel wire winches on maritime and offshore support and construction vessels. Deck mounted winches, traction winches and crane mounted winches are a common feature of many offshore projects such as subsea deployments, abandonment and recovery, mooring and lifting. In the event the winch gets into difficulties, the Allspeeds cutter provides an instant emergency disconnect, preventing further risk to the vessel.
The Allspeeds Winch Line Cutter is designed to handle the types of high performance, multistrand steel wires typically used offshore. Based on over 30 years' experience of cutting tools developed specifically for hostile environments, the cutter uses a guillotine action to provide rapid cutting. When activated, the blade is released, and the steel wire is cut against the tool's anvil.
The Allspeeds Steel Wire Winch Line Cutter can be readily adapted for use on any type of winch. It allows free movement of the wire through the closed cutter mouth without affecting normal winch operations.
In addition to Steel Wire Winch Line Cutters, Allspeeds also offers a range of Fibre Rope Winch Line cutters.
Download the Winch Line Cutter leaflet
For more information on the Allspeeds Steel Wire Winch Line Cutter, email info@allspeeds.co.uk.