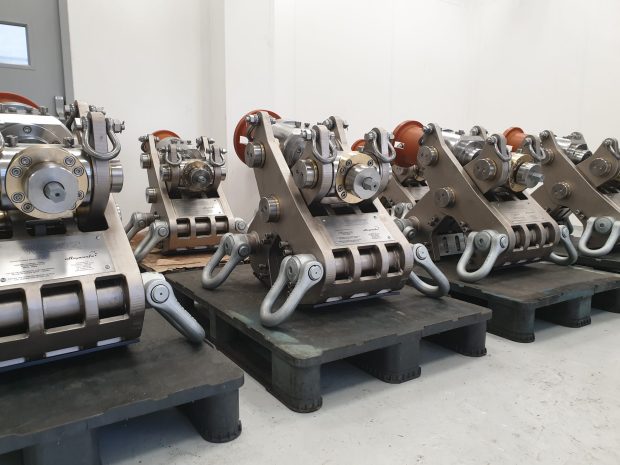 Webtool Showcases Subsea Gripper and Cutters at Subsea Expo 2023
Webtool
Stand No. 27
Hydraulic cutter and cable gripper specialist Webtool, a division of Allspeeds, will be exhibiting its market leading range of ROV / RROV cutters and CRT200 cable gripper at Subsea Expo in Aberdeen in February 2023.
Developed in consultation with international certification body and classification society, DNV, the CRT200 Gripper allows the safe and controlled recovery of damaged cable and umbilical up to 203 mm diameter. It can be used at any water depth and has a lifting capacity of 20 tonnes.
Also on the stand will be a heavy duty HCV220 cutter for cables, umbilicals and risers up to 220mm diameter. A key feature of the HCV220 is an integrated interlock, an added safety feature that ensures the blade cannot be activated until the anvil is fully deployed, making it safer to use in low visibility environments.
As part of the new suite of cutters with built-in interlock and booster features, we'll be launching the RCV160 and HCV275, the latest models to be designed and manufactured at our works in Lancashire.
For projects requiring long term deployment subsea, Webtool offers a range of RROV cutters with bespoke interfaces.
The stand will also feature examples of the compact range of Tangye hydraulic jacks, with lifting capacity of up to 100 Tonnes, together with a Tangye Hydrapak hand pump which is ideal for hydrostatic testing or operating hydraulic equipment where no power source is available.
The Webtool range of high-performance cutting tools is designed and manufactured exclusively by Allspeeds Ltd in the UK.
 For more information on the Webtool range of cutters, call +44 (0)1254 615100, email: info@allspeeds.co.uk, and visit www.webtool.co.uk.