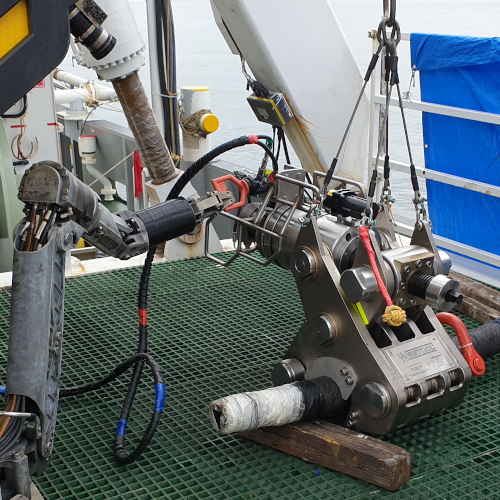 Webtool Focus on ROV and Cable Retrieval at Subsea Expo 2020
Hydraulic cutters and systems specialist, Webtool, is exhibiting the latest developments in its ROV electric cutters, extended deployment RROV cutters and cable gripper retrieval tools on stand 130 at Subsea Expo 2020, 11-13 February, Aberdeen. Webtool integrated cutters also featured on the stand will include IWOCS emergency disconnection and emergency deck cutters.
The Webtool Cable Retrieval Tool (CRT200), developed in consultation with international certification body and classification society, DNV GL, allows the safe and controlled recovery of damaged cable and umbilical up to 8" (203 mm) diameter. It can be used at any water depth and has a lifting capacity of 20 tonnes. Recent developments have improved the tool's utility by allowing the cable gripper to be deployed subsea for extended periods between recovery operations.
In addition to the CRT200 Cable Retrieval Tool, the Webtool stand will feature new developments in cutting tools for RROV deployment. Webtool innovations in blade technology allow the tools to be used for longer periods subsea during installation and maintenance campaigns.
The Webtool EHP350 lightweight, battery powered power pack provides electric ROVs with a high pressure, hydraulic capability needed for using Webtool cutters. The power pack is also compatible with most other subsea hydraulic tools enabling greater utility of the technology subsea.
The Webtool range of high performance cutting tools is designed and manufactured exclusively by Allspeeds Ltd in the UK.