Webtool Emergency Cutter for Helicopter Basket during 'live-line' HV Pylon Maintenance
Hydraulic cutting tools specialist, Allspeeds has developed an emergency cutter for helicopters where maintenance personnel are suspended in a basket during 'live-line' maintenance on high voltage, pylon power lines, for example. The spring-loaded cutters cut the 'anti-spin' lines instantly in the event the basket needs to be lowered and released quickly.
Live-line maintenance of high voltage (HV) pylon power lines is widely used to avoid disrupting power supplies. A lineman wearing a Faraday suit works on live power lines while suspended in a basket, 20m below a helicopter. To prevent the basket rotating two anti-spin lines are attached to the basket, one from each side of the helicopter.
The 14mm diameter polypropylene anti-spin line passes through the jaw of the spring-loaded Webtool cutter over a UHMWPE coated anvil. When activated, the recessed blade will instantly cut through the rope. Two cutters are mounted on the helicopter, one on each side. In an emergency Both cutters are activated simultaneously by the helicopter pilot.
The Webtool 'anti-spin' line cutter is built from aerospace grade aluminium; and the lightest cutter ever made by Webtool, with a weight of just 1.2kg. Designed for ease of use and testing, the cutter anvil can be removed and replaced without tools. It is locked in place using a pip-pin, allowing the rope to be easily removed from the mouth of the cutter during testing.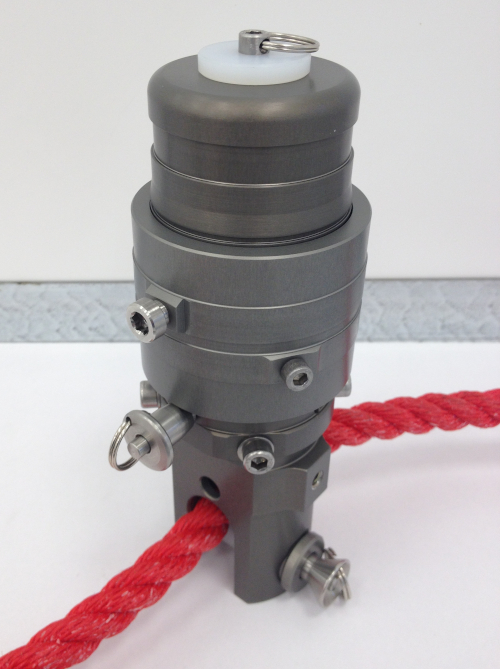 Webtool has supplied a simple hand tool to set the cutter ready for operation. Once activated, it takes only a few seconds to reset and preload again. This makes it simple for the pilot or crew to function test the cutter before a flight.
"The helicopter cutter sets a new benchmark for Webtool cutters in demanding applications," says Keith Elliot, managing director, Allspeeds Ltd. "It demonstrates the way in which our cutting technology can be readily adapted for subsea, maritime, nuclear and now aerospace."
The Webtool range of high performance cutting tools is designed and manufactured exclusively by Allspeeds Ltd.
For more information on the Webtool range of cutters, call +44 (0)1254 615100 or email: info@allspeeds.co.uk.