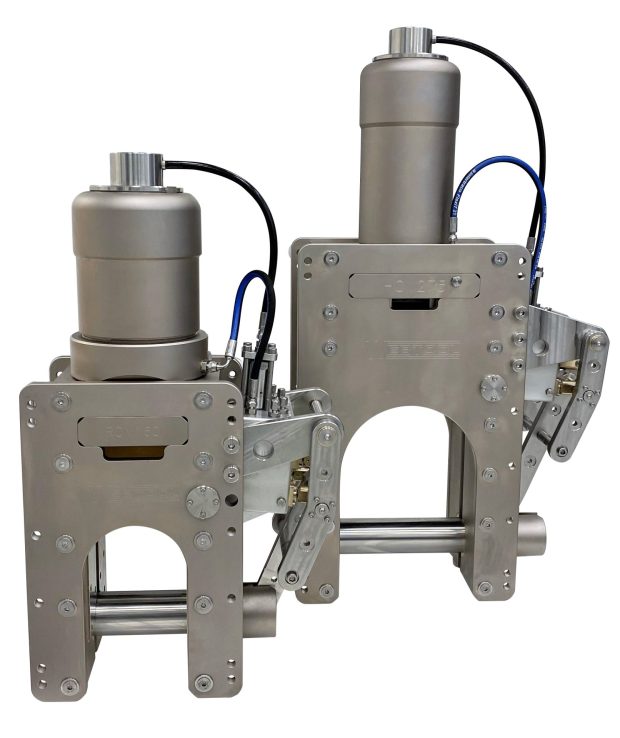 Subsea Technology & Rentals purchase new design HCV275 & RCV160 Webtool cutters to strengthen rental fleet.
Subsea Technology & Rentals (STR), a leading provider of specialist survey and inspection rental equipment, products, and data-enabling services to the offshore energy market, has strengthened its rental fleet with the addition of two high-performance Webtool cutters, the HCV275 and RCV160. These cutters, designed to suit specific customer requirements, can be deployed subsea either mounted to, or operated by an ROV, or onboard a vessel for either planned production cutting of offshore wind power cable or as an emergency cutter.
As reducing vessel hours is of paramount importance to installation companies, deploying subsea cable for offshore wind projects needs to be as efficient as possible.
The HCV275 and RCV160 feature an integrated interlock to ensure that no cut can be activated until the anvil is fully deployed. The interlock takes away the possibility of human error, and makes it ideal for deployment subsea, where visibility is poor.
This innovation was introduced following discussions with a number of customers who had either damaged or had come close to damaging their cutting tool through commencing the cut operation prior to the anvil being fully engaged.
Unlike other cutting methods, where there is a risk of the item flexing during cutting, and either trapping or snapping the blade, closing the guillotine's anvil locks the cable in position ensuring the cut is completed successfully, typically within a couple of minutes.
"We are constantly looking at ways to innovate and improve the design and functionality of our cutting tools, so as to aid the customer with their operations through improvements with safety and ease of use", says Rory McGarry, technical director, Allspeeds.
The Webtool range of high-performance cutting tools is designed and manufactured exclusively by Allspeeds Ltd in the UK.
For more information on the Webtool range of cutters, call +44 (0)1254 615100, email: info@allspeeds.co.uk, and visit www.webtool.co.uk.