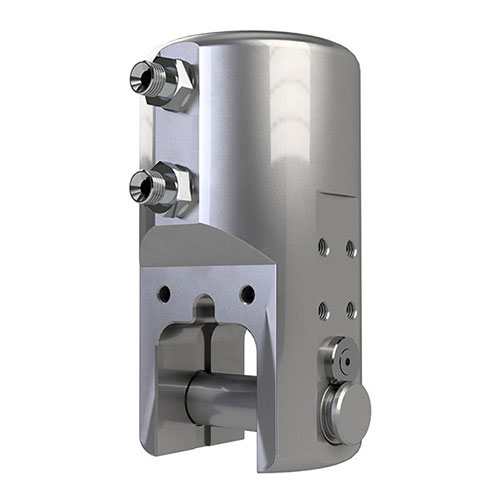 Small but perfectly formed – Webtool cutter goes downhole
Allspeeds, manufacturer of Webtool hydraulic cutters, has secured an order for a new cutter design for a challenging subsea downhole application. Based on existing and proven designs, Webtool's smallest steel wire cutter so far will be integrated within a downhole tool to cut mixed material steel wire and hydraulic lines.
The cutter has been designed to fit sideways within an internal bore of just 210mm (8.25"), whilst still being capable of cutting a steel wire and two hydraulic lines in a single operation. Incorporating a double acting cylinder, the 172mm (6.75") high cutter weighs less than 6.5kg, making it one of the smallest subsea wire cutting tools designed by Allspeeds.
"As a small, but critical part of the overall downhole tool design, it was hugely important to our client that they source a trusted brand for this operation. With over 30 years' experience in the design and manufacture of hydraulic cutters for the offshore, subsea, nuclear and defence industries, a Webtool cutter was seen as the ideal solution," says Keith Elliot, managing director, Allspeeds.
The Webtool range of high-performance cutting tools is designed and manufactured exclusively by Allspeeds Ltd.
For more information on the Webtool range of cutters, call +44 (0)1254 615100 or email: info@allspeeds.co.uk.