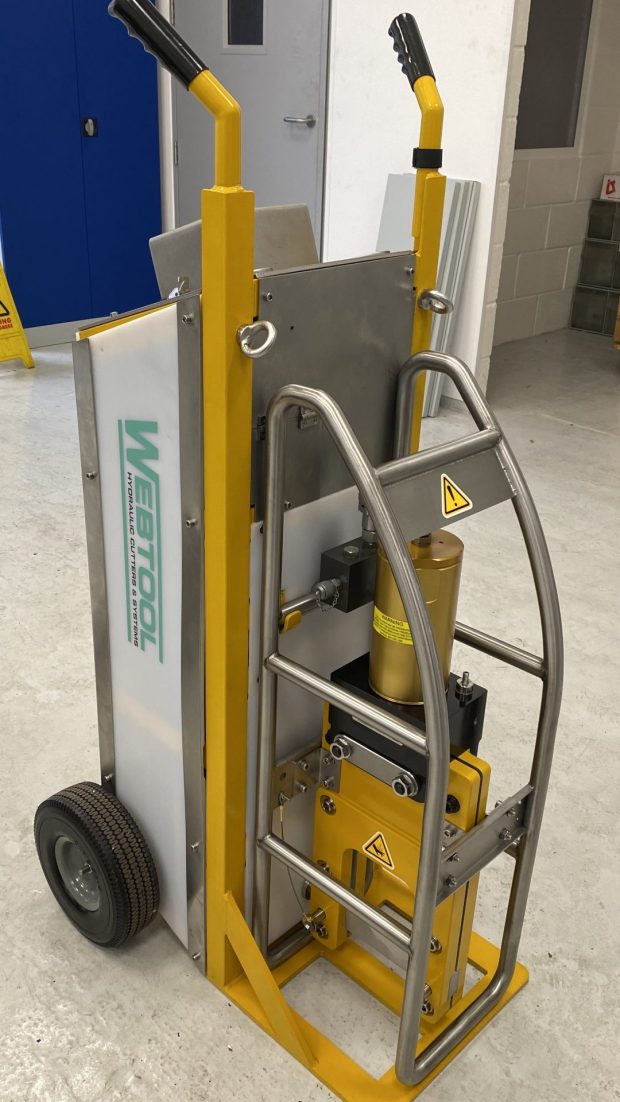 Portable Emergency Cutter for Norwegian Offshore Rental
Norwegian Offshore Rental has added a Webtool portable emergency cutter to its range of rental equipment.  Easily deployed on deck, and operated remotely, the cutter will provide an instant cut of softlines used for towing or umbilicals used in the event the vessel gets into difficulties.
 The Webtool portable umbilical emergency cutter comprises a self-contained "sack truck" containing a hydraulic accumulator and manifold with lockable control panel and a removable cutter. The cutter is connected to the control panel via a hydraulic hose.
 When deployed, the cutter and its protective frame are lifted off the sack truck and placed over the umbilical or softline. The lightweight frame allows the cutter to slide on the deck without getting damaged. In the event of an emergency, the cutter connected to the control panel is activated, severing the rope instantly. The deck emergency cutter is intended as a last resort when other measures to prevent damage to the vessel have failed.
 "Traditionally emergency cutters have been very heavy, bulky and need a large powerpack. We were looking for a cutter that was smaller and easier to move around the deck for offshore clients. The Webtool portable emergency cutter is the ideal solution," says Jostein Jansen, sales manager, Norwegian Offshore Rental.
 The Webtool range of high-performance cutting tools is designed and manufactured exclusively by Allspeeds Ltd in the UK.
For more information on the Webtool portable emergency cutter, call +44 (0)1254 615100, email: info@allspeeds.co.uk, and visit www.allspeeds.co.uk.