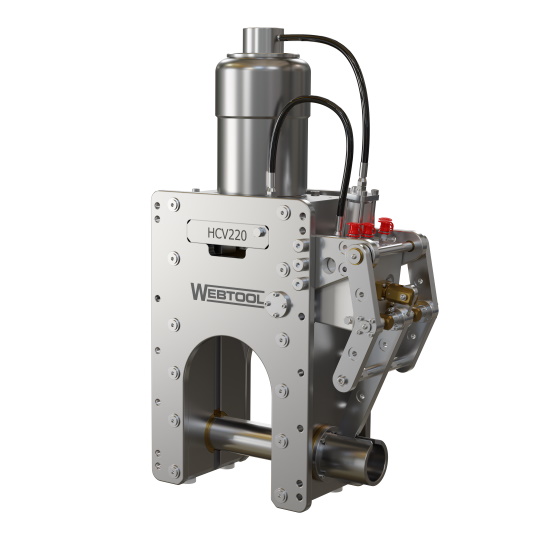 Webtool HCV220 Heavy-Duty Cable Cutter with Interlock
With growing demand for increased efficiency in cable cutting during cable lay, Allspeeds has boosted production of the Webtool™ HCV220 cable cutter. The cutter features an interlock to protect the cutter, enhancing its suitability as a production tool during cable lay.
Deploying subsea cable for offshore wind projects needs to be as efficient as possible. A key feature of the HCV220 is an integrated interlock, an added safety guard, which ensures that the blade cannot activate until the anvil is fully deployed, making it safer in low visibility environments. For example if the cutter is being guided via ROV to cut an umbilical on the seabed, it may not always be possible to get a clear image to the operator. 
Once the cable or umbilical is positioned in the jaw and the anvil closed, the guillotine blade is activated. Unlike other cutting methods where there is a risk of the item flexing during cutting and either trapping or snapping the blade, closing the guillotine's anvil locks the cable in position ensuring the cut is completed successfully, typically within a couple of minutes.
"The interlock function is a key aspect of this cutter" says Keith Elliot, managing director, Allspeeds Ltd. "It increases reliability and safety when working subsea by ensuring the tool cannot be damaged by incorrect sequencing."
 The Webtool™ HCV220 cutter is part of the Webtool™ range of high-performance hydraulic cutters and systems, all Webtool™ cutters are designed and manufactured in the UK by Allspeeds Ltd.
For more information on the Webtool™ HCV220 hydraulic cutter call +44 (0)1254 615100, email: info@allspeeds.co.uk, or visit www.allspeeds.co.uk.