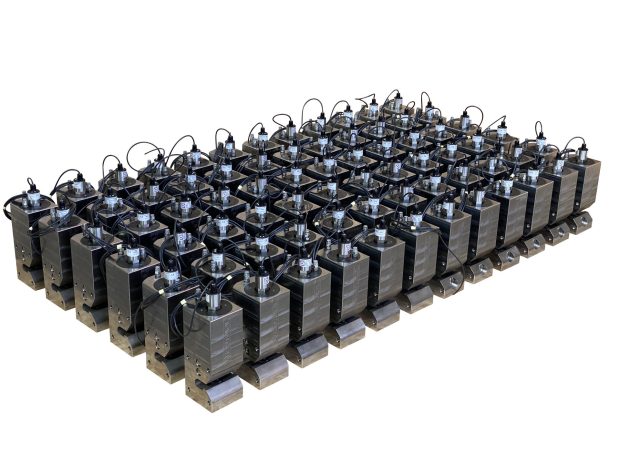 Allspeeds supply cutters and grippers for innovative robotic Mississippi mud mat vessel
Hydraulic cutter and cable gripper specialist Webtool, an Allspeeds brand, has supplied, via it's distributor for the Americas, Variators Limited, multiple, specifically designed Webtool cutters and grippers for an innovative robotic system on the US Army Corp's new speciality barge 'Armor 1' designed to help reinforce the banks of the Mississippi river.
The robotic system is designed to lay concrete matting on the banks of the Mississippi in a process known as revetment, intended to reduce erosion and prevent the river from changing course.
Armor 1 will include six, independent, robotic cranes, built by the US National Robotics Engineering Centre. These cranes will pick up the large concrete squares from a supply barge and place them on the Armor 1's "mat deck". There, the individual squares will be tied together into one 140 ft wide (and up to 900 ft long) flexible "mat" by an automated ties system.
The completed mat will be held securely in place by a network of Webtool grippers controlled by the robotic system. When ready to be launched overboard, the steel wires are severed simultaneously by the Webtool cutters and the mat submerged along the banks of the Mississippi River, while more mats are continuously being assembled on the deck. Once deployed on the Mississippi River, Armor 1 will replace the Corps' old Mat Sinking Unit(MSU), originally built in 1948, making it over 70 years old. The current process is hazardous and labour intensive. It includes cranes that are manually operated to grab rows of concrete pads from the supply barge and place them on the MSU. A group of workers beneath the cranes help position the pads correctly with crowbars. Another group of workers operating devices that attach the pads to the steel wires, creating a mattress of connected concrete pads. The new Armor 1 system will not only dramatically increase the speed of revetment operations but will also greatly improve the safety and working conditions of the employees who perform this vital work.
Due to the bespoke requirements of the cutter and gripper, Allspeeds worked closely with their distributor for the Americas, Variators Limited, and the end customer to ensure that all requirements were successfully met.
The Webtool range of high-performance cutting tools is designed and manufactured exclusively by Allspeeds Ltd in the UK.
For more information on the Webtool range of cutters, call +44 (0)1254 615100, email: info@allspeeds.co.uk, and visit www.webtool.co.uk.