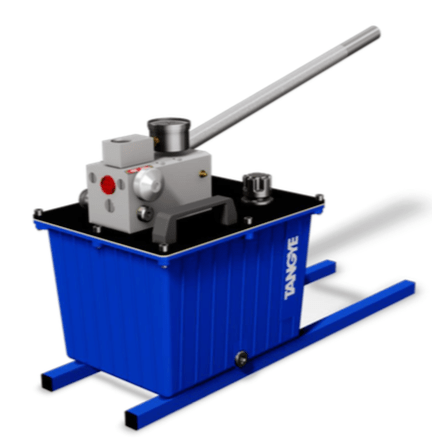 Allspeeds Announces Tangye Hydrostatic Test Pump
Allspeeds announces the Tangye Hydrostatic Test Pump for checking the pressure resistance of gas and fluid pressure vessels. The self contained, portable unit is capable of providing up to 1,000 Bar working pressure.
Hydrostatic testing is necessary to maintain safety standards for pressure vessels, pipelines and fuel tanks. The Tangye HTP is used to fill the sealed vessel with a liquid, and an internal pressure applied. Shutting off the supply valve and observing any pressure loss is used to check pressure tightness. Weighing 23kg, the Tangye pump comprises a 16 litre capacity aluminium tank and stainless steel pump components, lever, skids, and 3m hose.
The Tangye HTP manually operated, two speed hydraulic pumps are compatible with variety of fluids including water and oil. The pump's two-stage piston design provides a high flow, low pressure stage, followed by a smooth manual changeover from low to high pressure output. The Tangye HTP pump has a multi-positional, operating lever for ease of operation. All HTP pumps feature a factory pre-set relief valve, providing additional safety.
The Tangye HTP is available in seven pressure capacities ranging from 110 Bar to 1,000 Bar. The pumps can be readily customised to suit the application through a choice of pressure gauge kits and hoses.
The Tangye HTP is part of the Tangye range of high performance, hydraulic lifting jacks and pumps, designed and manufactured exclusively by Allspeeds Ltd in the UK.
Tangye's range of lightweight aluminium products has been in use throughout the world since 1856. Characterised by robust design, Tangye pumps and lifting jacks are high quality products that provide many years of reliable service.
For more information on the Tangye range of hydrostatic pumps call +44 (0)1254 615100, or email: info@allspeeds.co.uk.