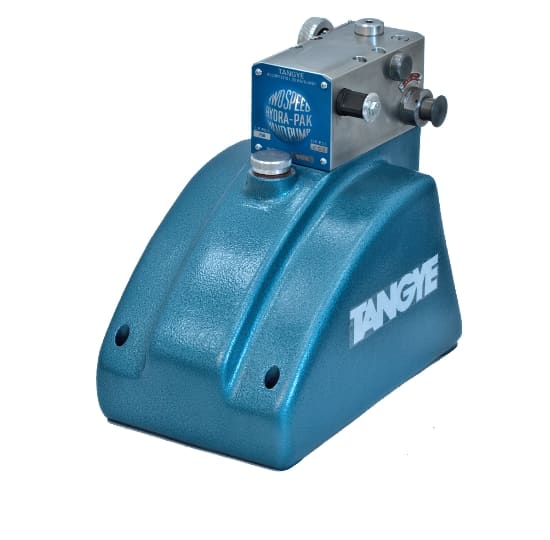 Allspeeds announces 1000 bar Tangye Hydrapak Pump
1000 Bar Tangye Hydrapak Pump
Allspeeds announces the Tangye Hydrapak pump providing hydraulic pressure up to 1000 bar (14500 psi) for testing hydraulic tools and systems and as a back-up system when HPU power packs or other power sources fail.
The Hydrapak hydrostatic pump is designed to proof test 700 bar hydraulic tools, typically 20-25% higher than the rated pressure. Made from lightweight aluminium, the compact pump is highly portable and weighs only 4.5 kg. It offers two speed operation allowing a rapid prefill or no-load approach, and push button changeover to higher pressure. An optional factory fitted pressure relief valve may be fitted to the pump and set at any specified pressure between 56 and 1000 bar to prevent exceeding maximum safe working pressures.
The Tangye Hydrapak pump range includes seven pumps ranging from 110 bar (1600 psi) to 1000 bar (14,500 psi). The pump is supplied with nitrile seals suitable for use with mineral oils, water, oil/water emulsions, paraffin and glycerine. Ethylene Propylene (EP) seals are available to order for applications using phosphate ester based hydraulic fluids can vegetable-based brake fluid. EP seals are compatible with Skydrol 500B and LD4.
For more information on the Tangye Hydrapak, call +44 (0)1254 615100, email: info@allspeeds.co.uk or visit the Hydrapak page