AKOFS Offshore selects Webtool Emergency Disconnection Tool
Allspeeds has supplied a Webtool Emergency Disconnection Tool to AKOFS Offshore. The tool is for it's subsea equipment orientation system (SOES) used to install subsea trees. The Webtool electric ROV cutters are integrated within the SOES. This provides a quick disconnection of the bundles of hydraulic jumpers and electrical flying leads in the event the vessel moves off-station.
The tool has been deployed on the Skandi Santos subsea equipment support vessel. The SOES enables installation of subsea trees in approximately half the time it takes a conventional rig. In an emergency disconnect situation, the Webtool integrated electric ROV cutter will cut a bundle of 10,000psi hydraulic jumpers connecting the SOES to a subsea tree stack. The jumpers are cut in a single operation in less than 10 seconds.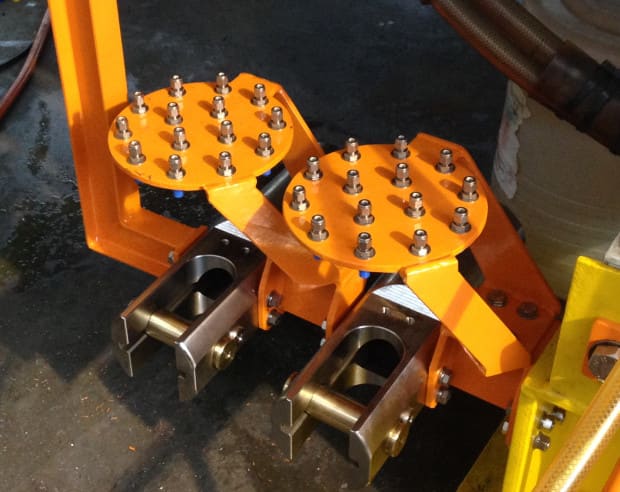 Emergency Disconnection Tool
Allspeeds has supplied four Webtool Emergency Disconnection Tools for the SOES system. The hose bundle is manually loaded into the mouth of the hydraulically operated electric ROV cutter. This is done during installation and remains there throughout the life of the SOES. Designed for deployment for extended periods subsea at 3,000m water depth, Webtool disconnection cutter can be function tested in situ. This ensures the tool is ready for use in the event of an emergency.
"Webtool's hydraulic Emergency Disconnection Tool is an important part of intervention contingency planning. Once activated the speed and completeness of the cut ensures companies can respond effectively to any emergency," said an AKOFS Offshore spokesperson.
Webtool's Emergency Disconnection Tool is part of the Webtool range of high performance cutting tools. They are designed and manufactured exclusively by Allspeeds Ltd.
If you have any questions regarding the electric ROV cutter or any of our other Webtool ROV tools, or would like more information on the Webtool emergency disconnection tool call +44 (0)1254 615100, email: info@allspeeds.co.uk or download the IWOCS Emergency Disconnect Cutters Brochure. Our friendly and professional team would be happy to help with any query, you can also contact them here.