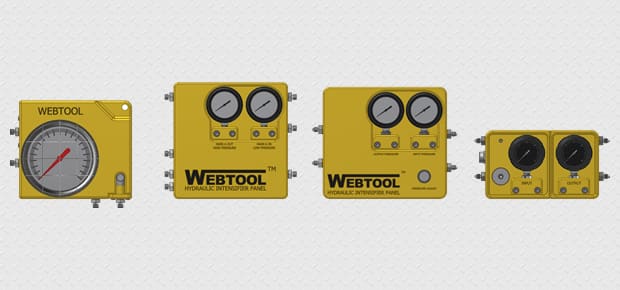 Webtool Intensifier Panel
Allspeeds are proud to innovate new products to raise the safety standards of subsea operations, we feel we did an excellent job when designing the HP690 intensifier panel. The Webtool intensifier panel was specifically designed for safety, it offers outstanding new features including a unique hydraulic circuit that automatically releases the pressure on the output side as soon as the input pressure is removed. This feature ensures complete safety for use for all double acting tools including the Webtool range of high pressure cutters and grippers.
The other features and benefits of the HP690 include:
Compact and robust aluminium construction
Corrosion resistant coated aluminium and stainless steel construction Pressure gauges recessed into the body for protection
Can be used at any water depth
Dual pressure gauges to show input and output pressures
Compatible with 2 port hotstabs. No additional drain port is required
If you require any further information get in contact with us!
www.allspeeds.co.uk/hp690-intensifier-panel/
info@allspeeds.co.uk
+44 (0) 254615100