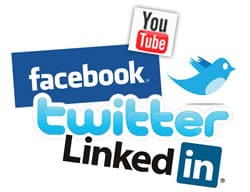 Allspeeds Embrace Social Media
Last June Allspeeds Ltd decided to take the plunge into social media marketing by joining Twitter, now 11 months on and we have now joined Facebook and LinkedIn. Many companies similar to ours have not embraced social media as they do not see it as a tool to reach their target audience but we strongly disagree.
The success of twitter was far larger than expected from Allspeeds; Twitter was another way to reach current and potential customers but its ability to reach anyone is the world was underestimated. Since Allspeeds launched the twitter page we have been able to communicate with customers at fellow professionals at a more intimate level, for example when we went to Subsea UK in February we were able to communicate with the the exhibition organiser (@subseauknews) and fellow exhibitors without even leaving our booth.
Also we have been able to communicate and generate new customers using Twitter, in particularly a large order of over £100,000 from a contact we gained from twitter. We would like t0 thank Mike Cowburn (@communisage) for his assistance in gaining the contact.
In the next week we will be launching our Facebook and LinkedIn pages, these will be continuously updated with company news and product updates. We also have a YouTube channel showing various videos such as instruction videos and testing. So please feel free to interact with us on social media.